What is Cremation?
Cremation is a process, which reduces the body to the elements by means of flame and intense heat. This takes place in a specially designed type of furnace called a retort chamber. After the cremation, the cremated body is processed into finer particles.
Cremation is a common form of final disposition in the U.S. During the last two decades, cremation has increased steadily in the U.S. and Canada.
Some are quite surprised to learn that cremation does not preclude a funeral with all the traditional aspects of the ceremony. Visitation or viewing with a funeral ceremony and church or memorial service are options to be considered.
Cremation is selected for many reasons. It ranges from religious beliefs or ethnic customs to cost. Most families electing cremation are believed to do so simply because of personal preference. Cremation, or any other funeral service option, should not be selected in an attempt to hasten or circumvent the grieving process. The grieving process is a necessary part of readjusting to life, after death has delivered a great sense of pain and loss.
Cremation offers a variety of options for the final disposition of a human body. Urns or other containers may be placed in a niche at a columbariun, which is a structure or a room designed to contain cremated remains. Families may elect to bury the urn in a family plot or cemetery. Or the urn may be kept in another place of personal preference, such as one's home. Subject to some restrictions, cremated remains can be scattered by airplane, over the ground in a cemetery scattering garden or at Sea.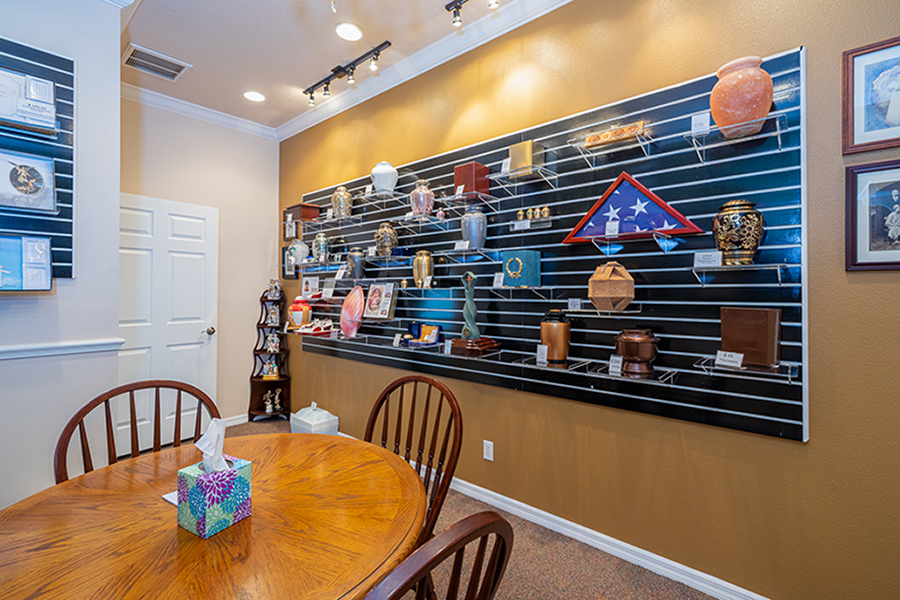 The three most common types of cremations are:
Tradtional Cremation – Usually includes a viewing and a formal service with the body present.
Memorial Cremation – A service without the body present, and may or may not have the cremains present.
Direct Cremation – This includes our minimal care services and does not include a viewing or any type of memorial service.